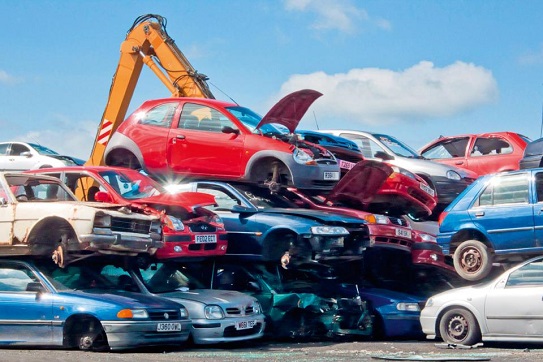 [contact-form-7 id="171" title="Quote form"]
Have you ever thought of the fact that why is it important to crush the cars before giving them in recycling. It is only because of the fact that the crushed cars take less space and this makes easy for the scrappers to store many cars in their yard. By crushing the scrap cars, local scrap car recyclers/dismantlers can store multiple cars in their yard (either in the stack form or making their heap) followed by recycling them. Recycling is not only a profitable business for the scarp car dealers but it also contributes a lot to the environment.
Car removal company can remove one car or multiple cars with zero/no towing charges and will pay you on the spot. But, have you ever thought that what they do after getting the car? Or what they do to the car once they take the car from you? The car removal company who want to give with the best payments along with fastest, most convenient services does not always follow the practice of recycling. They take the cars from the customers and sell those cars further to the local dismantlers. They do not want to involve themselves in recycling. But, on the other side of the coin, there are some companies who strictly follow the practice of car recycling. They are performing car recycling on numerous cars every year keeping environment safe. They want to go in the lane of Eco-friendly way of disposing the car of.
There are multiple ways to recycle the car. Either the parts are taken out and are again presented as reusable parts to the needy customers, who want parts replacement in their vehicle. The other method is scrapping down the complete car. Auto recycling industry is worth billions of dollars growing every year.
Steps involved in recycling:
Every vehicle is Depolluted, removing all the important spare parts, acid containing parts like batteries fluids and any other items which could have a negative environmental impact.
All the auto parts are removed from the vehicle at this point for the purpose of sale to the customers who are demanding recycle auto parts for their car.
Dismantled vehicles are stored on the concrete surface until they are crushed.
Important Parts are sold off and unwanted parts are picked off and sent to the shredder.
The remaining vehicle is then crushed.
There are numerous companies that are taking the junk cars and then sell junk cars to scrap metal dealers for a profit but they do not follow the practice of recycle. They neither practice nor promote recycling. Customers should always approach the companies who are pioneers in recycling of all the vehicles.
Recycling contributes in saving the area that has been taken by n number of scrap cars sitting ideally in the car dismantlers/car wrecker's yard. It also helps in saving the environment by preventing the hazardous chemicals to flow out in the environment chain. The cars which are not of further use should be crushed and recycled. All the principles should be followed to ensure eco-friendly car recycling and disposals in order to minimize our environmental impact.. Recycling is contributes a lot to the environment.
Canterbury Wreckers are providing car removal and cash for car services in Auckland. On east cost of New Zealand, Canterbury Wreckers is famous for car and truck removal services. We are renowned name in providing best cash for scrap cars. In the capital of New Zealand, Wellington, Top Car Removal company Windy City Wreckers provides the best car wrecking services. Here we are situated in the capital and are serving all the residents of Wellington and immediate suburbs. In north of New Zealand, i.e. in Auckland, we have Taha Auto Group, the largest company for Scrap Car Removals. We'll come to you and remove your car same day. We always pay cash on the spot. Here we pay cash up to $8999 for scrap trucks and cars. Another yard is of Scrap Car Removals in Auckland only where we are giving top cash for removing unwanted cars. We are serving all residents of Auckland since last one decade.
Stretching our arms to Australia, ANZ Auto is one of the highly reputed car removal and car wrecking company among all the contemporary companies giving cash for car, car wrecking and car removal services in entire Sydney. We serve entire Sydney and all neighbour suburbs. Apart from our Sydney yard we do have yards in different geographical locations in Australia and New Zealand with utmost satisfactory services matching the level of ANZ Auto. If you want to avail car removal services in extreme eastern part of Australia, you can approach King Auto Group in Brisbane. The King Auto team is proficient in car removal services as they remove the unwanted cars really fast. In south-eastern part of Australia, Ali Car Removals and Vic Car Wreckers provide the cash for car services. You can visit either the website or their yards to get your car removed and get cash on the spot. In Western Australia, You can visit Perth Car Wreckers for Cash for Cars and Cash for Trucks.